Repairing rather than discarding
Our ambition is to move towards a circular economy model by developing initiatives around repairing products.
Rethinking our way of designing, making our knowledge accessible and facilitating the purchase of second-hand products are all ways of approaching it.
We do our best to optimize the resistance of Forclaz products. But, paradoxically, we must also admit that any product can have a weakness that can accelerate the end of its life cycle.
This is why, on the strength of past experiences, our designers integrate the repairing aspect into the first sketches of future Forclaz products.
Some examples of procedures to facilitate the repairing aspect of our products:
MAKE REPARABILITY ACCESSIBLE TO ALL
What is the point of creating products that can be easily repaired if you don't provide the keys to learning how to do it yourself?
We have made various tutorials available to assist you in your repair process:
Videos to learn the basics on how to repair
How to sew a button on, change a zip, re-sew a seam that has come apart, etc.
The After-Sales service site
With repair tutorials, videos and the possibility of buying spare parts.
Advice on how to maintain trekking equipment
Wash well, store well, repair: maintaining correctly your equipment guarantees its longevity!
PROVIDE A SECOND LIFE TO REPAIRED PRODUCTS
How could we be persuaded to prefer repaired products to brand new products if we weren't involved in reconditioning ourselves?
That is why Decathlon has created the "Second life" project: when possible, returned products are refurbished and sold at a reduced price with a 2-year warranty.
You can find these reconditioned products in some Decathlon stores during special operations: follow your Decathlon store's Facebook account!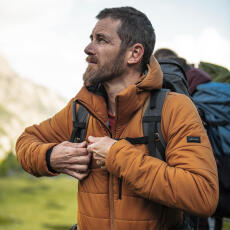 Nicolas, bivouac product manager
"As a citizen, trekker and designer, repair strikes me as one of the major challenges for the business of tomorrow, the antipodes of planned obsolescence.
This is an extremely simple way to limit your environmental impact. By extending their lifespan, less products and raw materials are consumed, and waste is reduced.
And what pride to give new life to products that have been the loyal companions of adventures ... so that they can experience new ones!
That's why we work every day to develop new, inexpensive and easy to use repair solutions.
So, how do you feel about repairing on your own?"
* The prices listed on the site are the prices recommended by DECATHLON SA's central purchasing department.