HYGIENE AND BEAUTY TIPS FOR TRAVELLING LIGHT AND ECO-RESPONSIBLY!
Travelling 'responsibly' for us is essential if we're to continue discovering the world, its cultures, landscapes and the pleasures it offers. Whatever the destination or duration of your backpacking trip, some basic products are enough to make sure you're always clean and fresh!
And of course, always bear in mind that not washing for a few days presents no danger, except that of smelling a bit!
Medical hygiene guaranteed
Above all, it's what we call medical hygiene that matters most. So it's important to take a first-aid kit with you.
This should, of course, contain items adapted to suit your destination and how long your trip lasts: - Disinfectant - Tweezers - Dressings - Compresses - Sticking plasters - Saline solution - Pair of scissors / knife
Go to a pharmacy to choose the additional products that will be best suited for your trip.
A suitable backpacking outfit
As Julie explains in her article "preparing your backpacking trip", checking the weather conditions for your destination and adapting what you wear accordingly is essential. Natural materials that breathe and reduce odours are always a good option.
If your clothes don't cover you up or aren't anti-UV, don't forget sunscreen to prevent sunburn. A hat is also essential to avoid sunstroke!
CHECK-LIST OF ESSENTIALS FOR WASHING WHEN BACKPACKING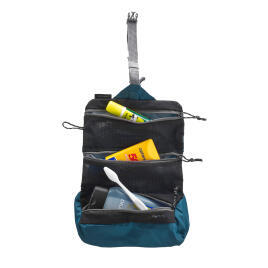 When travelling with your backpack, there are no frills, so you should take just the essentials, choosing light and eco-friendly products:
- Toothbrush: foldable or with its own textile storage case for easy storage and to keep it away from bacteria. Plus point: choose a renewable material like bamboo.
- Solid, refillable toothpaste: why choose between environmentally friendly and light when you can have both? Made from clay and essential oils, it comes in a small jar weighing ~20g and on its own covers the contents of 2 tubes of standard toothpaste - not bad, eh? Essential oils leave a fresh taste in your mouth, for the benefit of those around you :)
- Solid soap: natural and made from vegetable oils with no additives or fragrance to limit its impact on the environment. It can be used for both body, face and hair. Be careful, however, to limit the amount you use on your face and hair.
Please note: often, rinsing your hair with water may be enough to give it back its shine.
- Biodegradable toilet paper: if you have to do your business out in the wilds, go for biodegradable paper to limit your impact on the environment. Remember to dig a hole and stay away from streams and trails. This applies to any outdoor environment. !
- Towel: made of microfibre, it dries quickly and is compact.
Need to wash your clothes?
Your solid soap can also be used for washing your clothes by hand during your trip, reducing the weight of your backpack.
Now, it's up to you to complete this list with your own essentials.
We all have an item in our backpack which, as we know, is not really necessary but ... impossible to do without :)
For us, it's the night kit to sleep like a baby no matter where you are: mask and earplugs.
FOCUS: FEMALE BACKPACKER SPECIAL
For those who take a makeup kit with them, we recommend washable, reusable makeup remover disks: vegetable fibre, bamboo, cotton from organic farming ... it's up to you to choose!
We've prepared a whole article on the subject (to be published soon) but if you're used to it, we recommend a menstrual cup. Ideal to avoid generating waste! When travelling, it's all the more convenient as there are no bins on every street corner ;)
- saves space & weight: one or two will suffice for your entire trip
- environmental benefit: you reuse it instead of throwing it away.
* The prices listed on the site are the prices recommended by DECATHLON SA's central purchasing department.