HOW TO PREPARE YOUR TRAVEL BACKPACK?
Whether I'm heading off for a few days or a month, I have 2 key words: anticipation and lightness!
The main idea being: how to make sure you forget nothing yet avoid being overloaded?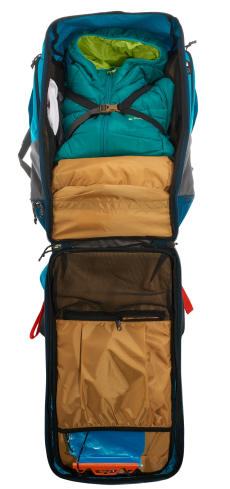 To start with, you have to choose your backpack carefully!
My preference is for suitcase-style backpacks with a large back opening for easy access to all my stuff without creasing it.
Being able to secure it with a padlock is also essential. Indeed, during your trip, you will be able to leave your bag at the hostel during the day or in the luggage storage area of your hotel.
And it's also very reassuring when you put your bag in the luggage hold, whether on a bus or plane!
With a backpack, you need a protective cover that can keep it safe on different forms of transport (plane, train, bus...) and is also very useful for sheltering your stuff from the rain.   Remember that your backpack needs to be comfortable, too, as you'll be carrying it regularly and sometimes for a long time! It needs to be your best friend. The ideal thing is to be able to test it weighted down before buying it.
You've found your backpack? Great! Now let's see how to choose what you'll put inside it...
Personally, I always start by checking the weather at my destination. Then I plan the things I intend to do once there.
Depending on the country you're going to and for how long, you'll need to adapt the contents of your backpack accordingly. Even though the essentials often remain the same, you won't need the same things if you go to Thailand as if you're heading for Bolivia. What's more, depending on the activities you've got planned for when you get there on top of your daily walking, your needs may be different.
Have pockets to separate up the contents of your backpack!
You're going to have to fill and empty your backpack every day! So that this doesn't become a nightmare, storage pockets make it easy to sort out your belongings and equipment. There's no easier way to be well organised!  
Whatever the duration of your backpacking trip, I advise you to prepare so you can get changed as often as you can for a week. You'll have enough to do your laundry regularly, and if you can't machine wash, you can always wash your underwear by hand.
Choose dirt-resistant products, which dry quickly, and ideally with anti-odour properties. In this respect, I have a very clear preference for Merino wool clothing. Merino wool has an anti-bacterial action that reduces odours, so you can wear them for several days without washing.
When loading your backpack, think about balancing the weight, which is important for your comfort when carrying it. You should position the heaviest items along your back. On the top, it's best to put the things you'll need during the day, so that they're easily accessible.     If you're planning trips lasting a few hours, consider bringing a lighter, compact, small-volume bag (about 20l), which can be used to carry water, a small first-aid kit and something to nibble on!
By Julie, Decathlon colleague and globetrotter
"It's only by travelling that we ultimately work out what's essential to us and what we can do without. So give it a go, do some testing, and feel free to leave a comment to tell me what you can't do without on a trip!"
* The prices listed on the site are the prices recommended by DECATHLON SA's central purchasing department.